Program Structure

Five-year graduate program on data circulation to produce a Ph.D. level of knowledge, leadership, and research skills
The curriculum consists of the following components:
Coursework
Real-world work (innovation circulation and global circulation)
Research
To produce global leaders in data circulation, which involves incorporating the desires of users into new products, services, and social values, the curriculum encompasses both fundamental knowledge of real-world data circulation and hands-on training in a broad range of fields in Japan and overseas. Research guidance is also provided so that students complete the requirements to obtain a Ph.D.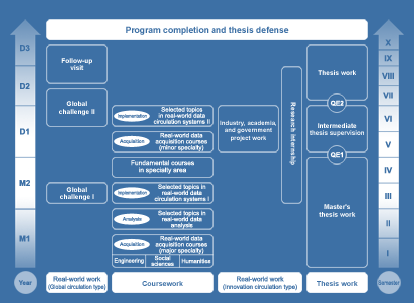 *Coursework covers fundamental knowledge in real-world data circulation. The cycle of data acquisition, data analysis, and data implementation is repeated over three years to gain a broad understanding in the fields covered by real-world data circulation, including engineering, social sciences, and humanities.